Beth Sergeant and Nick Chester come from opposite ends of the social food chain. While he sees a beautiful woman without an agenda, she sees a wealthy playboy. Can he convince her to let go of her insecurities and take a chance on love, when challenges from his past force her to reveal her most guarded secret?
Owner of La Bella Vita, a five-star day spa nestled in the affluent suburbs of Nashville, Tennessee, Beth Sergeant knows her elite clientele first hand. She attended their private schools. She was even engaged, although briefly, to one of their most recognized bachelors. But she never fit in to their social-elite world.
After losing his parents to a car accident at a young age, Nick Chester was raised by his grandfather, the wealthiest man in Nashville. When he chooses to socialize, he has a never-ending list of exclusive events and beautiful women vying for his attention. Yet he never lets himself forget that everyone has an agenda.
Beth can't resist Nick's charm and accepts an invitation to dinner, despite her deep-seated insecurities. She proves she's nothing like other women Nick's dated and learns to trust him in return. But just as the last of their resistance crumbles and true love is within reach, challenges from Nick's past threaten to destroy everything and force Beth to reveal her most guarded secret.
~My Thoughts~
"No more dates with men where the anticipation doesn't exceed an evening with chocolate."
Now having that sentence within the first page is a way to make any woman keep reading your book....way to go Cynthia!!!!!!
So, how do you love and hate a book .....just read this one....wholly boogers!!
At times you just know that Lauren and her minions are totally up to something and you just want to scream....then the other times you like "oh how sweet"
Urgh!!!
The main characters are so sweet...not the spoiled rich kids that you would plan on them being....aka LAUREN (Can you tell-I Don't Like Her?!?!?)
The story is full of bumps that our sweet,chocolate loving, but insecure Beth must over come to reach the love of her life.
As our hunk Nick, finds out exes are a real pain in the butt!!!!
Sometimes....love is worth all the hassles and in this story the best present did come in the stocking :0)
Curl up next to the fire with some chocolate of your own and start reading this book for sure!!!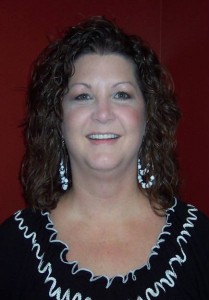 My husband and I live in the suburbs of Nashville, Tennessee with our teenage son and three dogs. Life is busy, but when I have free time, I love to read. A math/science girl at heart and a retail analyst by trade, I never thought I'd be writing romance. But one day, a story popped into my head and I had to write it down. The fantasy, escape, and wonder of just reading multiplied by ten-fold and I couldn't stop my fingers from typing my own fairy tales.
I hope you enjoy my stories. Each one touches on modern day issues, fears, and challenges that women face every day. And each one illustrates that love is within reach if you let down those walls and allow your heart to open. Our lives and experiences are so much more meaningful when we have someone to share them with.
Cynthia's latest book is the contemporary romance,

Winter

's

Magic

(Book 1 in the Music City Hearts series).
a Rafflecopter giveaway
*Disclosure of Material Connection: no payment was received by me in exchange for this review. There was no obligation to write a positive review. All opinions expressed are entirely my own and may not necessarily agree with those of the author, publisher, publicist, or readers of this review. This disclosure is in accordance with the Federal Trade Commission's 16

CFR

, Part 255, Guides Concerning Use of Endorsements and Testimonials in Advertising*