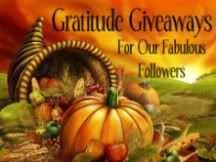 Thank you for coming by and visiting me. This is my first hop and I'm looking forward to getting more followers since I'm a new blogger.
As a gift of Gratitude for all the new followers I do get one lucky follower who comments on this post from WEDNESDAY, November 17th to SUNDAY, November 28th has the chance to win....
An $10 gift Cert to Amazon
.
Just think of the fun thing you can get!!!!!!....
All I ask is that you become a follower and leave a comment with a way to contact you (or make sure your blogger profile has your email in it.)
On Monday, November 29th, I'll announce who the lucky follower that Radom.org has choosen.
Don't forget there are 175+ blogs participating in this hop with wonderful giveaways....Check them all out